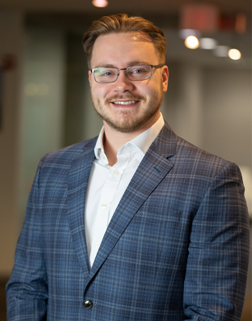 Sam Hansen
Director of Solution Design
As a Director of Solution Design, Sam wears 2 hats. When client-facing, Sam is responsible for designing technology, project, and service plans for new Lift clients. Internally, Sam is responsible for developing and managing a scalable Solutions program at Lift.

When designing Engagements for clients, Sam invests significant time in learning a client's objectives and specific context. He also tends to get more energized as the complication and complexity of a client scenario increases. This can lead to Sam smiling at odd times as he connects the dots between historical context, current-state, and desired future, but we promise it's a good thing.

Sam is an avid believer that fast-growing organizations' largest inhibitor to scale is operational maturity. He also believes that most teams are not equipped with the resources or capacity to improve operational maturity while simultaneously executing their day jobs. This leads Sam to be an extremely passionate advocate for Lift's clients.

When outside of Lift, you can find Sam reading, writing, in a gym, searching for good conversation, or plotting his next travel adventure.
Fun Facts:

Sam is a former NCAA Division I swimmer, meaning he has spent over 12,000 hours staring at the black line on the bottom of lap pools.
Sam is a foodie. He loves finding, making, and - most importantly - eating food. His most recent potluck dish is Cookie Salad.