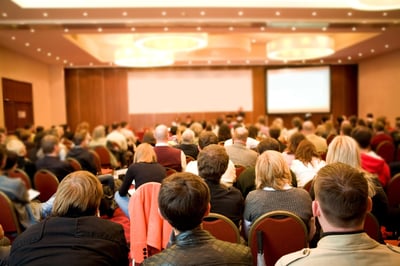 This week, I'll be in Boston for HubSpot's Inbound 2016 Conference. I'm really looking forward to it. Inbound provides a great opportunity for learning, inspiration and fun. It also gives me an opportunity to get out of my home office and see my co-workers and other smart sales and marketing people in real life.
While this year I am joining my teammates in Boston that was not the case two years ago when I attended for the first time. That year, I was on my own. And that can be an intimidating place to be at any conference.
B2B marketers for small to mid-size companies probably find themselves in this position on a regular basis. If you have a small marketing team, the likelihood you'll be attending events on your own are pretty high but it doesn't have to be scary.
Whether you consider yourself an introvert, an extrovert or somewhere in the middle, meeting new people, learning and having fun are all possible…even when you attend an event by yourself.
Here are five tips to take the intimidation out of attending an event alone.
1. Do your homework
Some of the anxiety you may feel when attending a conference may simply come from a fear of the unknown. If the event is being held in a city you have not visited or a venue you are not familiar with, the stress you feel about attending could be multiplied.
Take some time to research where you're going. Familiarize yourself with your hotel and it's location in relationship to the venue. Figure out if you will walk each day, take a cab, use public transportation or even event-sponsored transportation. Know how long it will take you to get there.
The first time I attended Inbound was the first time I had visited Boston. I have to admit just that fact made me uneasy about attending. I spent some time doing research and had a plan for every day. I was still a little nervous but felt a little more in control of the situation.
2. Remember, you're not really alone
Yes. You are attending the conference without any co-workers, clients or friends but you are not the only one in the same boat. There will be many others there who are attending alone.
If you're interested in finding others who are on their own, look for people who are having coffee or lunch by themselves or sitting alone in a session. If you see them, introduce yourself. Just being there alone is enough of a common bond to start a conversation.
Additionally, many conferences, including Inbound, offer an opportunity to meet others who will be there by themselves. For example, this year at Inbound, you can use #INBOUND16solo to connect with other solo attendees.
3. Dress for success
When you're in a new setting with new people, it's important to wear something that makes you feel comfortable and confident. For some, that may be a business suit. For others, it may be a certain color. And for others, it may mean a t-shirt, jeans and tennis shoes. Whatever it is, pack it.
And don't overestimate the importance of being truly comfortable…not just with what you're wearing but with how it feels. Let's take shoes as an example. If you're attending a large conference, chances are you'll be putting on a lot of miles. If your feet are killing you by noon, you're in trouble. Be confident but don't forget to also be practical.
4. Bring a list of conversation starters
Being in a room with perhaps thousands of people you've never met can be very intimidating. You many want to crawl into a hole instead of trying to make friends.
Having a list of conversation starters in mind can take some of the anxiety out of meeting new people. Try questions like:
Are you here with your team?
Is this your first trip to XXX City?
Did you hear X speak today?
Where can I find something to drink?
Where's the nearest charging station?
Is this your first time attending this event?
Other things you could try are commenting on the weather or giving someone a compliment.
Remember, not everyone will be as anxious to make new friends. Don't be discouraged if you're not successful the first time. You will find someone who is there with a primary goal of making new connections.
BONUS: If you're worried about starting a conversation on your own, wear something that might get someone to ask you a question. I did this when I attended Inbound the first time. I'm from Green Bay, Wisconsin, which makes me a Packers fan by default. And for whatever reason, people from all over the world and all different walks of life, are very interested in the Green Bay Packers. That year, I wore a Packers shirt one day – not an obnoxious Packers shirt but what I call "dress Packers wear." The Packer "G" was very subtle but got some attention. It's a lot easier to make new friends when they come to you with a question about something you like to talk about. Try it.
5. Allow yourself to take a break
A long day at a conference can be an exhausting experience. Make the most of every opportunity you have while there but also don't be afraid to take a break if you need it. Find a quiet spot and recharge even if it's just for a few minutes.
Also, if there's something you've always wanted to do or a place you've always wanted to go in the city you're visiting, do it. There's no one to stop you. That's the positive side of traveling alone.
Conferences can be very valuable…too valuable to pass up because you're anxious about attending by yourself. The next time you're faced with a similar situation take action. Force yourself outside your comfort zone. You won't regret it.