The question is no longer will you use technology, it's:
What technology will you use?

How much technology will you use?

How will you use that technology?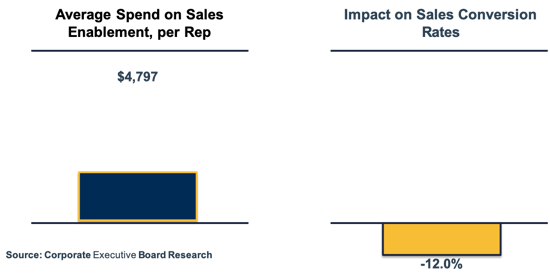 Marketing and sales technology solutions (MarTech) provide growth-focused businesses with tremendous potential to enable and accelerate key processes to increase productivity and impact while also lowering total costs. Unfortunately, despite its potential, the promise of technology is rarely achieved. Research from the Corporate Executive Board highlighted that while companies are spending nearly $5,000/sales rep/year on sales enablement technology, conversion rates were down 12%. Research from CSO highlights that sales reps today spend less than 1/3rd of their time actually selling.
It should be no surprise that technology has become one of the most important complexity multipliers facing your business. The 2019 Marketing Technology Landscape lists more than 7,000 applications to choose from (up from just over 100 in 2011).
This is where our MarTech Advisory Services apply. We ensure that your technology accelerates your growth making it more effortless.
What MarTech Advisory Is Like When You Work With Lift
We don't believe in buying (or subscribing to) technology. Instead, we believe that technology should be "hired".
By taking a "Jobs To Be Done" approach, we ensure that the focus is on the outcomes you're striving for so that your investments are in tools that accelerate, rather than "toys" that complicate and distract. While our specific approach is customized to your unique situation, our methodology is designed to ensure you get the best results, in the fastest time, with the least disruption:

Tech Stack Design & Implementation
Our team of marketing and sales tech advisors matches the right technology with the right business process to match your organization and culture, eliminating much of the complexity and disruption that drags down growth.
The Turnkey Smart Growth Tech Stack
Save time & money, plus reduce your risk and leverage the best-in-class Smart Growth Tech Stack.
Buying, Renewal Management & Negotiation
Save time, money & risk. Let our team manage the details and ensure you get what you need.
Tech
Integrations
Our Smart Growth Certified Integration Partners provides the right expertise, at the right time with the right processes - all aligned to meet your business objectives.
CRM, Marketing & Sales Acceleration Implementation
If you're looking to move beyond simply administering your tech stack to unlocking its potential to accelerate and eliminate friction and disruption, our team and approach may be what you're looking for.