The data is depressing:
Salespeople spend less than 1/3rd of their time actually selling

More than 40% of sales opportunities are ending in no decision

The cost of customer acquisition continues to grow at unprecedented rates
Sales is the last mile of your customer acquisition process and is the real moment of truth. The problem is that while the buyer has fundamentally changed the way we behave and engage, sellers have not. Yet, when you look, today's most successful companies - B2B, B2C, B2G, etc. - are winning more business, faster and at lower costs because how they sell is why they're winning sales. Managing this transformation requires more than speeches, motivation or even training.
Our sales services programs are designed to enable your team to transform how they sell to win more sales, faster.
Sales development is a specialized role that brings data analysis tools, email nurturing and phone prospecting teams together to focus exclusively on creating sales qualified leads and preparing them for new sales people.
A study by Northwestern's School of Management found an organization's closing rate goes up seven points (that's points, not percent - so a 10% closing ratio becomes 17%) when sales organizations specialize with sales development type roles.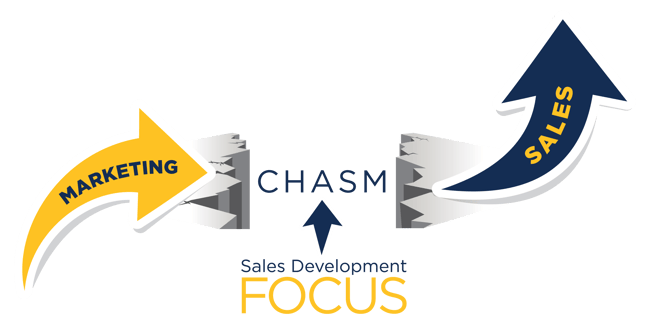 There has always been an age old problem between marketing and sales. Simply put, marketing's job ends too early and sales' job starts too late. This leaves a chasm between the two, leading to:
A significant loss of impact for both sales and marketing.

Higher sales and customer acquisition costs (CAC).

Less predictability in revenue growth process.

Longer sales cycles.

More difficulty in hiring and onboarding B2B salespeople successfully.
Sales development program bridges the chasm, creates alignment and multiplies the results of both disciplines. Working as a core part of your lead generation and management team, sales development reps (SDRs) work closely with marketing to create new lead opportunities. They also follow through with the leads created through inbound marketing and other lead generation tactics.
On the other side of the chasm, SDRs work closely with your new sales team to turn leads into sales qualified leads (SQLs) and opportunities. This allows your sales team to focus on what they do best - selling.
Peter Drucker, often referred to as the father of business management, was fond of saying, "You Can't Scale Genius." If your goal is to create predictable, sustainable and scalable revenue growth, you must instead build the genius into the system.

To win business faster while protecting your margins, your sales process must be fully aligned with your marketing process and with how your customers manage their decision-making and procurement processes. In short, you must transform your sales team into Demand Creators.
Lift Enablement can help you with this transformation. We've developed the Demand Creator Sales Playbook™ to guide sales and sales management teams through the transition from traditional sales organizations to demand creator organizations. Based on more than 20 years of research and application into what drives sales success, the Demand Creator Sales Playbook is built to be quickly customized for your organization. Lift will work with you to create a version of the playbook that is specific to your team. The Playbook includes:
Clear target market definitions and buyer personas for your sales team.

Full process and workflow maps to guide sales actions.

Customized sales toolkit to support sales efforts.

Sales management tools.

Customized playbook for each sales rep.

Senior team coaching to support implementation and integration.
If you're ready to move past sales and marketing alignment to a single, organizational customer acquisition and success platform where every strategy, discipline and tactic reinforces and strengthens the whole then you're ready for Smart Growth Selling.
Sales Enablement is the ongoing effort of aligning and optimizing all facets of an organization's revenue generation process. It is focused on increasing the efficiency and acceleration of revenue generation tactics.
Today your sales team is so deeply involved in the reactive loop of managing and adjusting to constantly changing buyer situations that without a clearly defined process they lack the key insights to unlock the powerful conversations that are crucial to success.
Sales Enablement, done right, should drive 3 outcomes:
Enable smarter, faster and quicker decisions that build momentum
Enhance customer acquisition & success capacity by reducing the time it takes to generate action
Be a Velocity Multiplier resulting in greater momentum and lift enabling greater, effortless outcomes
Learn how we harness the power of Sales Enablement to accelerate your efforts.
Sales Enablement Services:
Sales Playbooks
Sales Development
Content utilization
Designing Reporting & Analytics Systems
Designing The Players Dashboard
Companies expend extraordinary resources in an effort to "differentiate" themselves from their competition. Yet when their salespeople engage with prospects, they look, feel and sound the same as everyone else.
Selling is in the midst of a revolution. The entire selling ecosystem is being rapidly disrupted and the companies that want to win but change how they sell.

Whether you're looking to improve your overall approach to developing your market, build a high-growth sales or success team, or to focus on specific sales areas, our real-world based sales programs create high-impact and stick.
What's more, virtually all of our programs can be delivered effectively live, online or through an immersive combined approach.
Sales Training Topics:
The DEALS Framework For Salespeople - Building a High Probability, High Impact Pipeline
Creating a Powerful Message
Implementing a Diagnostic-Based Sales Process
Moving Beyond Price
Design Your Sales Playbook
Resonating Questions - Lead Your Prospects to Sell Themselves
How to Build a High Performance Sales Team
Shortening the Sales Cycle
The CRM & Marketing Automation Platform are at the core of any effective growth-focused tech stack.
If you're looking to move beyond simply administering your applications to unlocking their potential to accelerate and eliminate friction, our team and approach may be what you're looking for.
CRM & MarTech Services:
Setup
Data migration
Database Design & Segmentation
Data cleaning & augmentation
Automation
Pipeline & Lifecycle Management
Integrations
Performance Reporting
Ongoing implementation
Ongoing advisory & coaching
Tech Stack Roadmap
MarTech Procurement