HubSpot has officially launched its newest Hub* - Operations Hub. Promising that "users can unify customer data in a connected CRM platform, automate a host of time-consuming tasks, maintain a clean database with ease, and ultimately, play an active role in shaping their company's strategy."
Since the launch, there have been countless blogs posts and social media updates promising:
An absolutely game-changer

Watch out Everybody! Now your data is going to clean itself.

HubSpot CRM platform is now supercharged with a suite of tools that make it easy for team members to connect, clean, and automate customer data.
So, does it live up to the promise?
What Is Operations Hub
Here's how HubSpot describes Operations Hub as well as its main features:
The Hub is a new product specifically designed to empower operations teams to play an influential role in helping their companies delight customers at scale.
There are four core features:
Keep your apps and data in sync in an easy, no-code package. Get bidirectional sync, custom field mappings, filtering, and historical syncing, so all your teams stay aligned.
Eliminate time-consuming data cleanup. Automatically fix date properties, format names, and more with new out-of-the-box automations.
Keep your team efficient and customers happy. Code custom automation actions for every business process—lead rotation, territory management, renewals, and more.
Trigger actions in third-party systems—a Slack message, a Zoom invite, an Asana task, and dozens more—from your HubSpot workflows.
There are three tiers for Operations Hub:
Free provides two-way data sync for default fields, historical sync, and third-party integrations. Effectively, as of April 21, every HubSpot portal now has ops hub's free tier available to them.

Starter ($50/month) enables you to sync custom fields as well. In November 2019, HubSpot acquired PieSync, an iPaas (integration platform as a service) application. PieSync has been absorbed into Operations Hub. The Starter tier is, effectively, PieSync (this morning, PieSync announced the product would be sunset at the end of 2021 and that as of today (April 22), they will not be allowing new customers on the product).

Professional ($800/month) adds programmable automation and bots, webhooks, data quality automation, and additional reports, lists, and workflows (though it is unclear what those additional items are).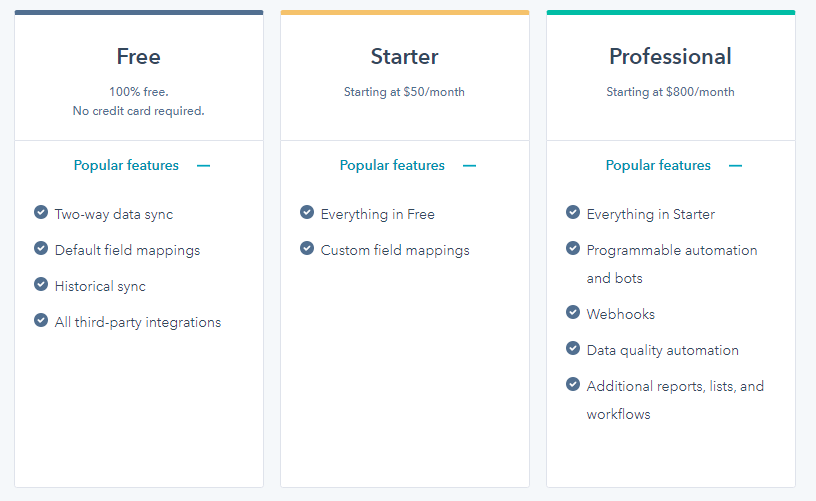 Operations Hub Review
Before I share my thoughts on the hub, let me share two points:
I have only had full access to these features for a couple of days. HubSpot did not provide a prerelease version for us.

I am writing this review the day after the launch of Operations Hub. If Operations Hub follows the course of Sales Hub, then I fully expect that the product will be much stronger over the next 6-12 months.
I'm thrilled (with a caveat) that HubSpot has added these features. Let's review each of them:
Programmable Automation
This feature, unquestionably, is the star. I'm excited by the opportunities that this will provide. Programmable automation enables you to create custom-coded automation within HubSpot's workflow and bot flows. Hubspot's automation has always been a strength and one of the primary reasons we've been such a fan.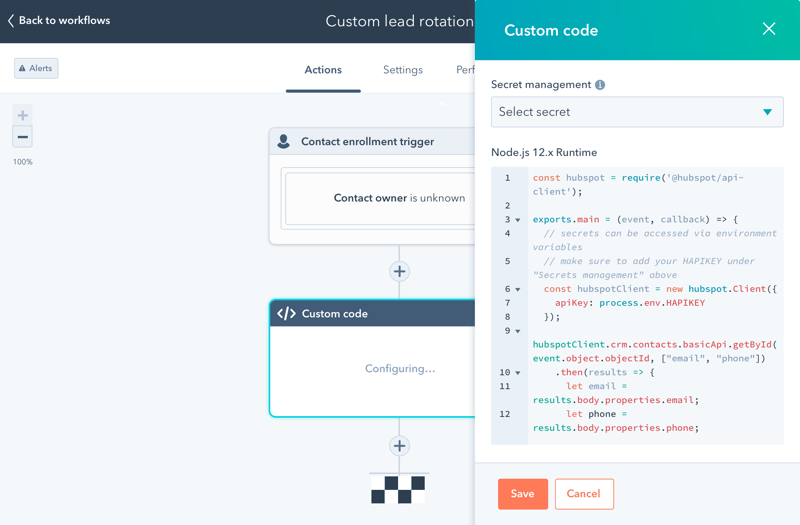 This capability will require users to adjust a primary value proposition. Until now, you could safely say that you could take advantage of the power of HubSpot without relying on IT or a developer. The "no-IT needed" proposition was reinforced with the launch of CMS Hub last year. While you do not lose the vast majority of that benefit, you will need development expertise to take advantage of programmable automations.
Adopting this feature will impact the expertise required to support and maintain HubSpot as well as to implement. This is where my caveat comes in. Creating custom-coded automation is powerful, and true to HubSpot's history; they make it very easy to do. I fear that this ease will become a crutch as users will likely jump to increase the complexity of their workflows to address symptoms and will skip the hard part - creating clarity around the business process that is to be automated.
Programmable automation is a powerful feature and addresses one of HubSpot's historical weaknesses. That said, this feature is likely to be meaningful to a relatively small percentage of users (if it's not overused). In our experience, the vast majority of HubSpot users aren't taking full advantage of HubSpot's non-programmable automation yet.
It's also striking that HubSpot is launching programmable automation without providing a sandbox environment for development and testing.
Data Quality Automation
This is a nice addition to HubSpot. We currently use a third-party application, Insycle, for this. I've run a couple of tests using this, and it's handled everything so far. I have not had the opportunity to test large batches or see how it handles more complex situations where exceptions must be managed.
I do think this will be the most used feature for Pro-level users. Besides data cleaning activities like ensuring that every first name starts a capital letter, it brings functionality like adding a number of days to a date field, adding various calculations or testing fields to ensure they meet protocol requirements.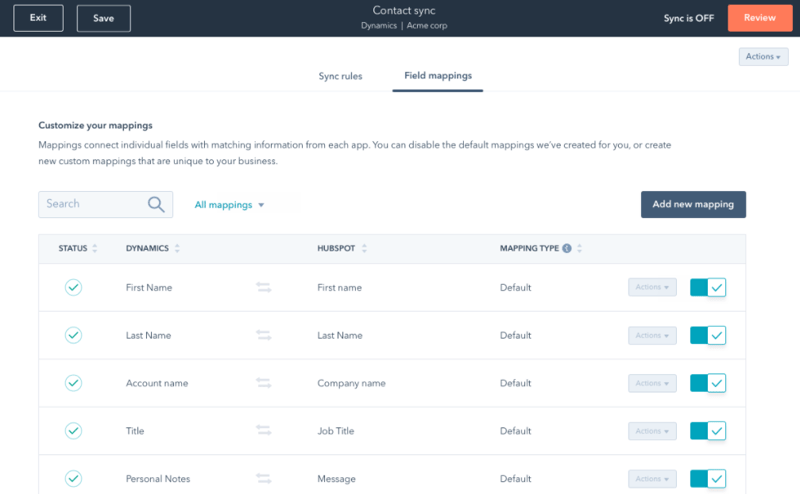 Data Sync
We've used PieSync in several situations and found it a relatively easy-to-use tool and are happy with its performance. The fact that it's going to be built into HubSpot is good.
At launch, Data Sync works with 25 third-party applications (whereas PieSync works with more than 250). HubSpot's Data Sync products page promises "new connectors being built every week." Until significantly more connectors are built, Data Sync cannot fully manage most company's needs.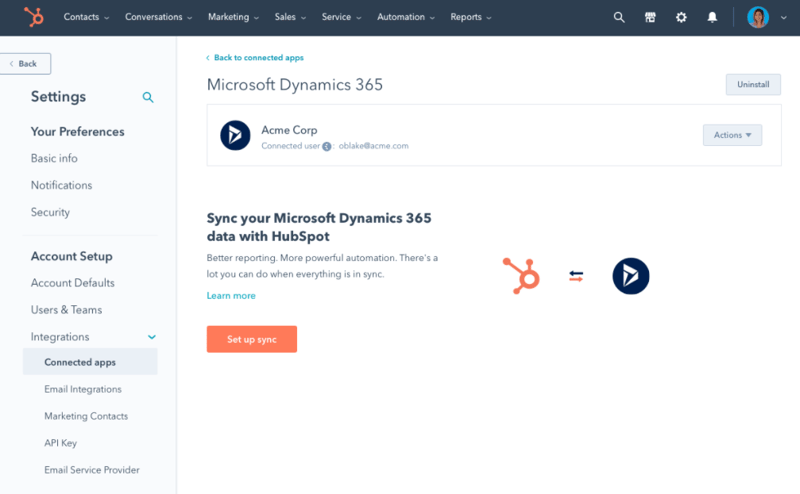 Workflow Extensions & Webhooks
Workflow extensions is not a new feature., and is available in other Hubs. What's new is that webhooks (a way for workflows to provide other applications with real-time information and/or trigger actions) are now available only in Operations Hub. Until now, webhooks were available for users that had at least one enterprise tier hub.
HubSpot has decided to eliminate this feature from all other enterprise hubs. It is only available at the pro level with Operations Hub (portals that have workflow extensions before April 21 will not be impacted by this and will continue to have access).
Candidly, this is disappointing. I'm also concerned that this seems to be an action play that is becoming a standard part of HubSpot's new hub launch playbook. They did the same thing with the Memberships feature when they took it out of the Marketing Enterprise Hub and required users to license the CMS Enterprise Hub.
I do not think weakening other Hubs is a good idea.
Conclusion - Does Operations Hub Live Up to the Hype
Unfortunately, the answer, right now, is no.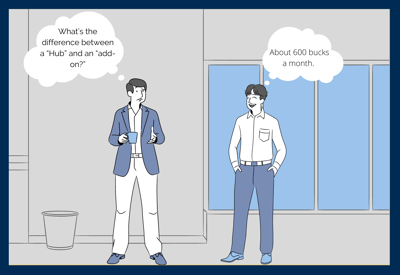 I don't think these features meet the threshold to be called a "Hub." I think a more appropriate term is "add-on." (I should note that I feel the same way about the CMS Hub).
As I shared earlier, while I like these features, they're addressing weaknesses (or at least comparative weaknesses) in their Enterprise Tier products in many respects. These features that currently makeup Operations Hub should all be standard in their Enterprise Tier Hubs.
Suppose the announcement yesterday was Operations Hub Pro launched at $800/month for non-Enterprise tier users and is now a part of Enterprise Tier Hubs. In that case, I'd be fighting to lead the cheering section.
I'm confident that if Operations Hub were part of Enterprise HubSpot, they would see greater adoption and upgrades at the enterprise level and would win more new business.
Today, Operations Hub is a worthy solution for companies that genuinely require complex, custom automations and have the depth to support them.
*For those that don't know, HubSpot's other Hubs are: Marketing, Sales, Service, and CMS