Fully updated on 10/22/20
HubSpot provides four "hubs" (marketing, sales, customer success, and CMS) that can be used individually or in combination. Each of these hubs is built on and share HubSpot CRM.
In this review, I will be addressing the Sales Hub, which includes their CRM. It's important to note that you do not need to use HubSpot's CRM to be able to use and benefit from the Sales Hub. (Two blogs that can give you more context include one focusing on combining Salesforce and HubSpot CRM and the other that highlights why many mid-market companies are leaving Salesforce for HubSpot.)
Summary
This is going to be a long review, so I'm putting the conclusion at the beginning of the post.
Overall Assessment
The Sales Enterprise Hub is an ideal part of a growth-focused company's core tech stack. It's among the most comprehensive suites available, built seamlessly together. When you add the Marketing, Service, or CMS Hub, you increase the power is exponentially.
Over the last two years (the time of the original review) HubSpot has consistently addressed most of the weaknesses of the product, while adding new features and capabilities at the same time. There are still several features that are limited in their ability to customize to a company's needs, or are still weak, but those are the exception.
Overall, Sales Hub delivers on HubSpot's new positioning - Power or Ease...Pick 2.
In my original review I wrote, "The upside is that there's no product on the market that gives you as much as Sale Enterprise does (certainly for the cost)." Today, the differences between Sales Hub and its option has grown. And, if their product roadmaps are any indication the rate of improvement is only going to increase.
Ease of Use
From the first sales acceleration tool that HubSpot introduced (does anybody remember Signals?), ease has been the quintessential element of their products, and they don't let us down here. The tools are easy and intuitive to use.
Make no mistake, to fully utilize the product you'll need to invest the time in designing and setting up the system design, workflows, and processes (and this is by no means easy), but when it comes to executing Enterprise Sales is about as easy as it can get.
Power
HubSpot always made ease of use their super power. Their weakness had - and I emphasize the past tense - been power and flexibility.
Is Sales Hub powerful? OMG yes, it is. Is it flexible? Unquestionably.
Today, there's very little that you can't do with Sales Hub. In a weird way, the combined power and ease creates a potential in weakness. Other powerful systems (they will remain nameless) are typically very difficult to engineer, manage and implement if you want to take advantage of the power. The advantage of that difficulty is that in often forced organizations to think carefully and plan before doing.
The ease of HubSpot makes it very easy to skip the hard work that needs to be done to get the outcomes you desire. It is especially important that when working with HubSpot you keep the first rule of building strong tech stack at the forefront: the business process needs to drive the technology, the technology should not drive the business process. To unlock the power of HubSpot, it's still very important that you address the structural elements of your company first.
Customization & Control
HubSpot likes to bring a strong point-of-view when they launch new products or features within their Hubs, and Sales Hub is no exception (I explain more on this in the individual feature/app reviews below).
The good news is that major improvements have been made in this area over the last two years. The addition of Custom Objects, multiple new property types, content partitioning, user role and field level permissioning give you the ability to customize and implement that vast majority of schemas needed.
There are still some places where you'll lack the ability to fully customize (or you'll be forced to adapt to some of the built-in point-of-view that comes installed). However, where two years ago this weakness was enough to justify the need for another approach, that is no longer the case.
A Breakdown & Review of Each Feature of HubSpot Sales Hub
Enterprise
Target Accounts/Account-Based Marketing
Earlier this year HubSpot released ABM applications in the Sales and Marketing Hubs. I've been using them now for almost a year. Now you're able to easily and effectively segment and monitor Target Accounts.
The Target Accounts Home page gives provide an efficient overview on key elements surrounding your key accounts. Ads enables you to integrate and monitor your paid campaigns from within HubSpot.
These apps represent a great start to building the type of functionality that is missing from just about all CRM and sales acceleration stacks.
There are still several areas that need to be improved before I can say that this tool gets the job done. Specifically:
HubSpot did a great job making it easy to get started with account-based functionality, but that ease comes at the expense of customization and control. In far too many places you're forced to use their point-of-view for the setup. For example, while the Target Account Home is helpful, it's also generic. The ability to customize the setup is important to support what is, inherently, a highly customized strategy.

Strengthening the cross-object reporting and cross-object lists will go a long way to address the depth that is often required for a successful account-based strategy.

We're not heavy users of paid ads so I can't get an in-depth assessment of its functionality. We have tested it and in our tests we found it to still be glitchy and opaque. At this point, I don't see us using it over third-party apps that have greater transparency, control and ease of use. At this point, I think that HubSpot has to decide whether they want to fully support paid tactics or not.
Account Overview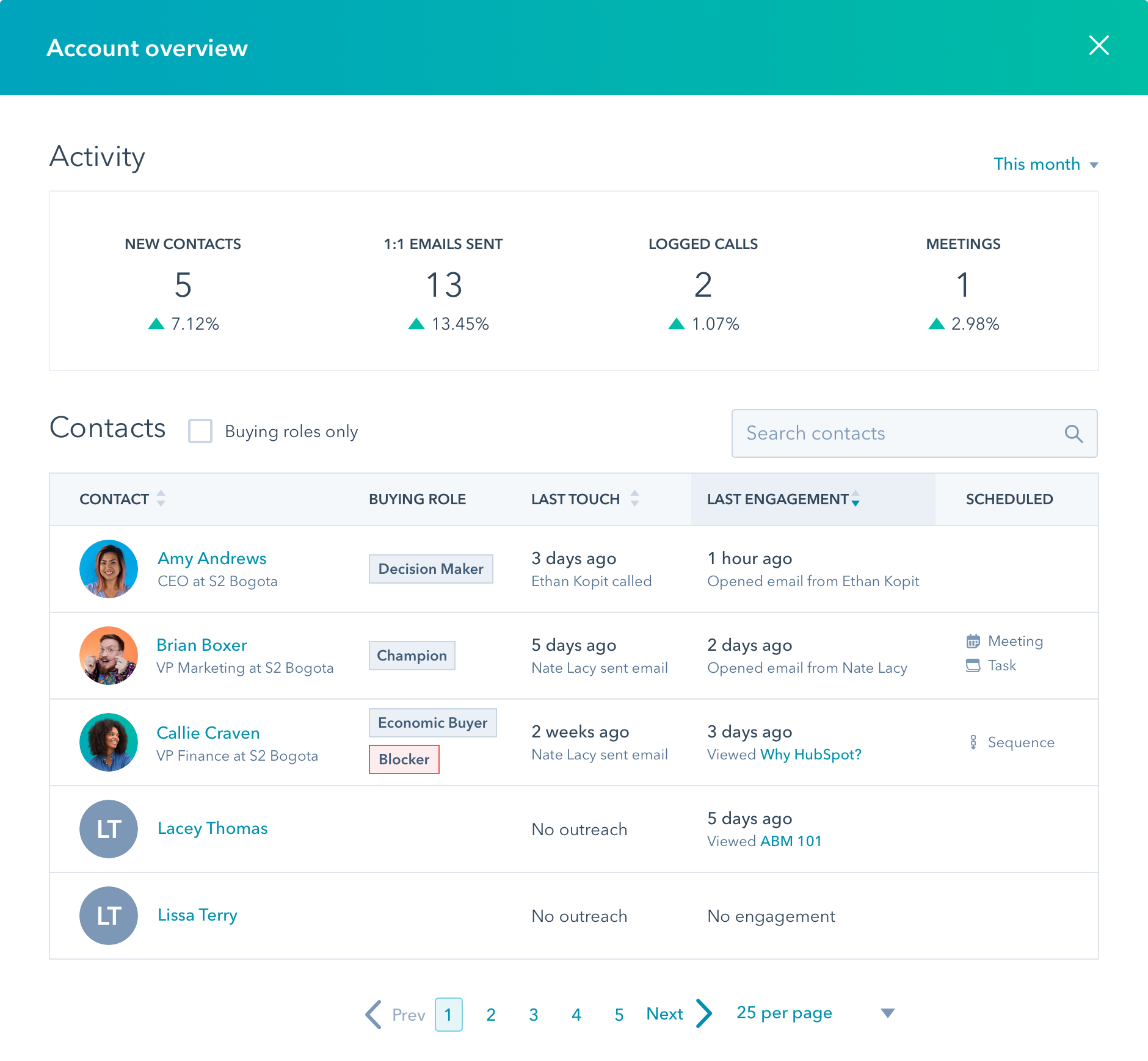 The Account Overview is my favorite account-based feature addition. With the click of a button it provides you with a 10,000 foot view into key elements around the account, enabling you to filter to see only those contacts that have determined buying roles.
Here too, the weakness is that there is no flexibility or customization provided, so you only get to see what the HubSpot product team has determined you should see.
One of the best potential elements of the overview is the ability to see key engagement metrics at a glance. While helpful, it usefulness is limited because of both a lack of customization or the ability to filter those metrics based on specific contact criteria. The latter often eliminates the ability to separate the signal from the noise.
Company Scoring
One of the best enhancements introduced over the last year (with very little fanfare) is the the addition of a company scoring property.

This is particularly valuable when used in conjunction with a targeted account strategy. For example, when we work with clients, one of the first things we do is to create an Ideal Client Profile Rubric™ to assess the quality of accounts as they progress through the buying and sales journey.
With company scoring we're able to automate this process, which creates several additional ways to optimize & customize the customer acquisition and expansion process.
Deals & Deal Management
Managing sales opportunities with HubSpot sales is one of my favorite aspects of the entire product. I'm reminded of this every time I work with a client using another tool.
With HubSpot's deals you can:
Track multiple pipelines. This is effective when you've got distinctly different products, type of sales (new sales vs renewals, upsells, cross sells and more). We use this to create a lead management pipeline for our sales development reps. While this may sound like a small thing, it has a tremendous impact on tracking analytics, coaching reps and more.

Quickly and easily trigger actions or workflows when deals enter specific stages. This is great for activity management and to align marketing actions with sales progress.
The key weakness here is the cross-object limitation that still exists within the HubSpot platform. You can't generate tracking reports that use properties from other objects (like contacts, companies or activities). You also can easily work from a deal record as the information you have access to relating to the company and contacts associated with the deal is highly limited.
Documents
Oh how I wish they cared about Documents. Candidly, this is an application that they need to decide to invest in to bring it up to par with the rest of the suite, or I'd like to see them get rid of it.
Documents enables reps to upload any type of document to share with someone. When the document is reviewed the rep is notified that the document is being viewed and also gets a breakdown of what parts of the document were viewed and how much time was spent on each page.
For the record, I don't want them to eliminate it. Documents has the potential to be a strong enabler in unifying the sales experience, for both sellers and buyers. But, currently it's functionality forces you to use it in only the most basic situations, and even there it provides a sub-par user experience (for marketer, seller and customer).
Snippets
Back in the day when WordPerfect was the dominant word processor, I was introduced to the idea of "macros." With macros, I could create shortcuts that would enable me to do this across the organization.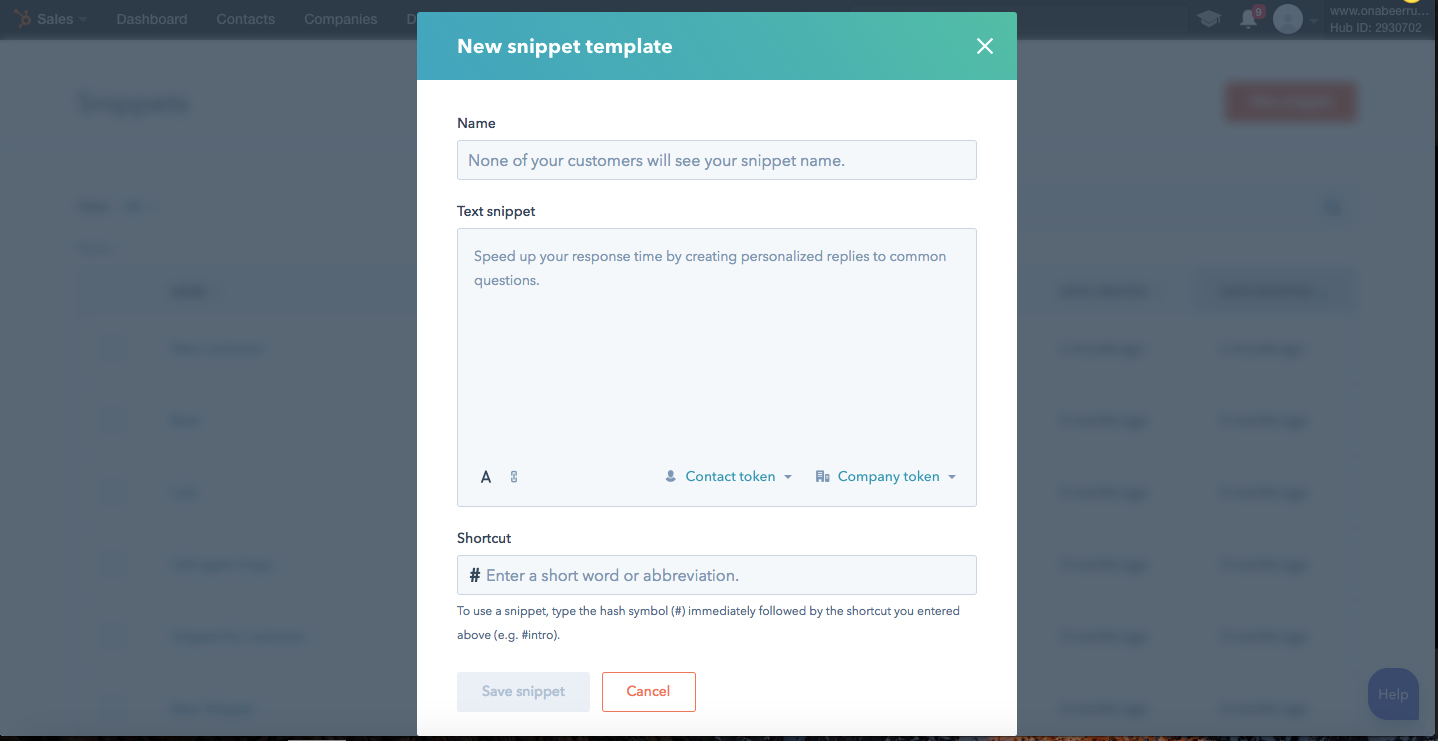 This can be a powerful tool for both saving a lot of time (and the frustration of trying to remember how you responded to or worded something previously) and enhancing and optimizing the communication for the entire organization. Snippets are available for taking notes with a CRM record, to use in emails, and even in chats.
Snippets has the potential to be much more powerful than it is. It's one of my favorite applications, but I have to admit I don't use it often. Using snippets is a high friction experience. Three improvements are needed here:
A better storing/sorting mechanism & user permissioning. I've never navigated through the depths of a rain forest with only a machete, but I imagine it's a lot like navigating or updating Snippets after you have about 10 snippets.

The ability to export & import snippets to make pruning & maintaining easier.

Providing usage analytics similar to those provided for email templates.
Smart Send Times
Smart Send Times promises to tell you the best time to send an email to someone. As someone who has seen the power of optimizing email send times, I was very excited when their feature was announced a year ago.
Unfortunately, it was highly unreliable back then and it hasn't gotten any better. While the email scheduling feature has gotten more stable, until HubSpot makes material changes in how send times are calculated, I would completely ignore this feature.
My recommendation: don't use this feature. See our review on SeventhSense to address email deliverability.
Roles & Field Level Permissions
With user roles and field level permissioning Sales Enterprise is now able to meet the critical criterion of locking down data and access for complex sales and marketing teams.
I would like them to improve the setup and tracking of these features. Currently roles and field permissioning are completely separate functions. For example, you can tie specific field permissions to roles as you set them up. Additionally if you want to see what permissioning is in place, there is no way to do it other than to review each field/property manually.
Smart Notifications
Smart Notifications is supposed to proactively alert reps on what's happening and where they should place their attention. Most users will not find much value in this feature, as the means for establishing prioritization is built into the system is quite arbitrary and cannot be customized.
Calculated Properties
The database in the CRM becomes much more powerful with the ability to create fields that are formulas.
Combining calculated properties with workflows enables you to automate more dynamic situations, saving time and money, and putting reps in a stronger position. We recently completed a project along these lines which enabled the company to take what was a human-intensive process and completely automating it. This put the right answers (and better questions) in the hands of salespeople while they're having a conversation with a prospect.
Recurring Revenue Tracking
The biggest trend on the seller side over the last 20 years has been the move, for all sorts of businesses, to some form of recurring revenue. While it's become a dominant service & pricing strategy, few CRMs have actually supported recurring revenue tracking, requiring users to go to specialized products for such tracking.
With Sales Enterprise, your sales (new business and account management) and service teams will be able to track everything that matters about recurring revenue. Additionally, you'll gain the power of analytics and more seamless automation.
Predictive Lead Scoring (PLS)
The promise of predictive lead scoring is a powerful one. The implementation, however, is weak. Of course, you shouldn't expect much from a feature like this that promises to work right out of the box with no training of the system.
Part of the problem is in the core objective of the PLS tool. It aims to predict the probability of someone buying within the next 90-days. While this has some relevancy in simpler sales, complex sales are far more, well, complicated.
I've asked many people to explain the PLS model and reviewed what HubSpot has shared with me (just about all of which is available in their knowledge base). A review of such material shines absolutely no light on the subject, and as the old saying goes, if you can't explain something simply, you don't understand it well enough. At that measure, no one that I've talked to at HubSpot understands their PLS feature.
I've tested PLS myself for the last three months and can clearly communicate that the percentage identified has no correlation whatsoever with the actual quality of the lead, or even the willingness to engage.
Until HubSpot either explains how PLS works and who it works for better (and more likely until they make meaningful improvements in the PLS feature itself), you'd be best to ignore this feature.
Salesforce Integration
A couple weeks ago, I shared how integrating the strengths of Salesforce with the strengths of HubSpot Sales can be a powerful combination. (I'll leave you to read that review if you're curious.) The HubSpot-Salesforce Integration makes it possible.
Integrations
To finish my features review, I'll share my favorite part of the HubSpot Sales tool. While it's not all the way there, it is fast becoming a full-fledged sales platform. More than 200 third-party applications (and growing) have already built out native integrations. With HubSpot's continued investment in greater APIs (which are even stronger at the Enterprise level), HubSpot Sales can be integrated with other tools to become a full solution for your business. With the growing base of partners, you can also be confident that HubSpot Sales is a platform you won't outgrow.
App Marketplace
More than 500 third-party applications (and growing) have already built out native integrations. With HubSpot's continued investment in greater APIs (which are even stronger at the Enterprise level), HubSpot Sales can be integrated with other tools to become a full solution for your business. With the growing base of partners, you can also be confident that HubSpot Sales is a platform you won't outgrow.
Simple Automation
As an opportunity goes through the sales process the context of that opportunity changes. This often means that certain actions need to be taken (by the sales rep or someone else) and new requirements are added for the information a rep needs to know.
Simple Automation enables you to trigger the scheduling of tasks, automate notifications and adjust what properties are required based upon where an opportunity is in the pipeline, without having to build out full, more complex workflow automations.
Must-Have
Calculated Properties

Calling

Company Scoring

CRM

Custom Objects

Deals & Deal Management

Email Integration

Email Scheduling

Email Tracking & Notification

Field Level Permissions

Integrations

Live Chat & Chatbots

Meeting Scheduling

Multiple Currencies

Playbooks

Recurring Revenue Tracking

Reports Dashboards

Roles

Sales Analytics

Sales Automation

Simple Automation

Snippets

Team email

Templates
Nice to Have
Account Overview

Call transcriptions & reporting

Conversation routing

Products & Quotes

Prospects

Sequences

Target Accounts/Account-Based Marketing
Needs Work
Contact & Company Insights

Mobile App

Required Fields

Teams
Not Valuable
Documents

Predictive Lead Scoring

Prospects

Smart Notifications

Smart Send Times