The year is halfway over. How has it treated you so far? For both Mike and Doug things have been going well and they're happy with how everything is turning out. Specifically for us here at Imagine the environment is very weird because we've never seen an environment that's red hot as the last 6 to 9 months. Doug expects to see a pullback throughout the summer, and even more disconnect when people are back in the office. But that's not what we've come here to talk about. We've come here to discuss yet another 2021 report and answer a question on preparing for sales calls.

Audio:
Show Notes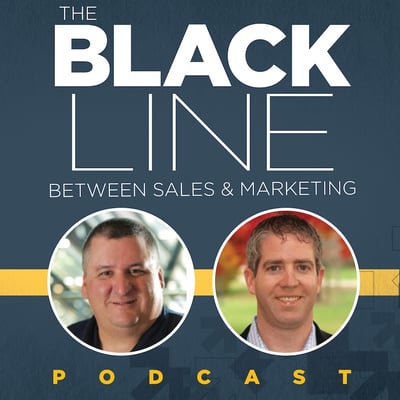 Editor's Note: If you haven't already, leave the podcast a review either on Apple Podcasts or Spotify.
We've done other report reviews like this in other episodes. If you would like to check them out, you can find them here:
Episode 65: MarTech 2030...The Implications
Episode 66: Gartner's Report: The Future of Sales - What We Think
Episode 76: Under Armor, Nike & The State of Proposals 2021
Episode 77: The State of Sales 2021
BIG NEWS:
Vidyard put out their 2021 Video in Business Benchmark Report and although it isn't a "State of" report officially, it's referenced as one in their promotion of the report. We won't be going through everything like our other report reviews because the information is overwhelming and it's hard to find out what to do with the information.
Overall Mike found this report to be interesting. From 2019 to 2020 to 2021 it's a no-brainer that there would be an increase in video due to the pandemic. There's been a huge jump in not only adoption, but also creation.
Mike found the volume of video to be interesting and was shocked that real estate wasn't higher up on the list. But he made a point that this report is just based on Vidyard customers and they may not have a significant cohort of real estate users.
So why pick real estate to focus on?
In this day and age, Mike would fully expect his agent to do a video walkthrough of the houses, but Doug brings up the fact that those types of videos wouldn't be done with Vidyard, they would more than likely be done with a 360 app.
Some general observations about the report include that it focuses on user generated videos - specifically indicating that shorter is better, and that isn't necessarily the case. Mike felt like this whole report was a sales piece that supports the FOMO that you should be doing video (specifically with Vidyard). And because of that there isn't much that is actionable from reading the report.
The top thing that surprised Doug was the top video based on role.
For Marketing:
Website
Social Media
YouTube
For Sales:
Social Media
Sales Prospecting/Conversations
Email
For Customer Service/Support:
Social Media
Training
Customer Conversations
This prompts a few questions. Is YouTube social media or not? If social media is the top distribution channel, what's the juice for the squeeze factor?
In the vast majority of cases, what's the ROI of video? For Doug, he thinks the answer is whatever you want it to be. It's connected to various activity metrics. You have to pay more attention to what you're doing to produce better results. If creating video is the factor to pay more attention to what you're doing then it may be worth it, although you should be paying attention to what you're doing regardless.
Part of the issue is that groups of people are adopting a tactic that is deemed as hot, so they're putting more resources into creating video. You go, go, go until you get to an inflection point. Up until that point of reaching critical mass you'll say that it's working in your favor.
In all fairness, where this report is useful comes if you're a marketing or sales leader and you want to support your case that you should be using video.
QUESTION:
Question of the episode: What's the most important thing you can do to prepare for a sales call?
Mike starts off by saying that it depends on the type of call. Doug jumps in and says prayer. But in all seriousness, what's the objective. Being clear on the objective is the most important.
Be real clear on why you're making the call. Don't hold meetings; hire meetings. What's the job to be done?
If you finished the meeting or call, how would you know if it was successful? That's the question you want to ask yourself or even your clients/prospects. This ties into something we call meaningful conversations because you want an objective goal.
If you put an agenda together and haven't thought about what role the meeting is going to play, then you won't have a good agenda. Once you have the goal or the objective in mind, putting together an agenda becomes easy.
Don't get stuck between what we call exit ramps. For example if you're making a cold call and don't have an end point in mind you can actually go too far in the call. There's a chance you'll make it through one objective but you won't get close enough to hitting the next one and will get stuck between exit ramps. To combat this, think about an old philosophy in sales — when the prospect says yes, shut up.
When you're in larger meetings ask the question, what are we accomplishing here? This is where business acumen comes into play too because with it you can shift some to where the conversation goes while remaining on par with the objective.
Business acumen is part of the decision process. Doug has seen people shift before, but it goes back to being clear on the why. If you aren't clear on the role of the meeting and what you're trying to get done, you're more likely going to zig or zag in a different direction. If you do know where you want to go and you face resistance, you can shift to avoid it to still get to the end point.
If you have an agenda and are not clear on the why, the outcome of the meeting will always be up in the air. It's best to have both, and you should take the time figuring out the why so that you can quickly put together an agenda, not the other way around.
TAKEAWAYS:
Mike - Read the benchmark reports (or any reports) with some skepticism. Don't let all your decisions be formed from these reports; avoid the silver bullet.
Doug -Play your game. Games work because of rules. There are things you're going to want to jump on. If you don't know what your game is, everything will overwhelm you. As you dial your game in, it'll open up opportunities.