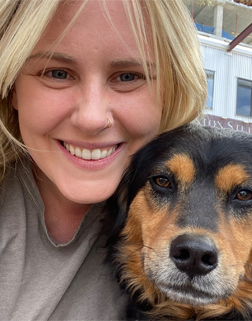 Ashley Carvalho
Director of Program and Capabilities Development
Ashley, Lift's Director of Program and Capabilities Development, leverages her extensive program management and development experience on behalf of both Lift clients and employees. She coaches the Lift team to develop skills that allow them to excel with clients while also furthering their professional development. Ashley brings a well-rounded perspective, allowing her to mentor Lift employees and clients to be as successful, efficient, and strategic as possible. Her "favorite thing" is helping people reach their full potential.
Ashley spent seven years at HubSpot, where she participated in two major launches: the CMS Hub and Sales Hub Enterprise tools. She also developed and launched the partner accreditation process. When not working on launches, Ashley worked closely with the sales org and customer success team and partners to build HubSpot's upmarket process to sell to bigger, more complex businesses. Prior to HubSpot, Ashley began her career at a non-profit organization called DKMS, part of the world's largest bone marrow registry, where she built programs, strengthened recruitment partnerships, and fundraised.
When Ashley isn't solving a complex problem or helping someone figure out their potential, you can find her in one of her "grandma" hobbies. She's either tending to her plants that have taken over her house (inside and outside), working on stained glass projects around her recently renovated home, or finding a great place to rock climb. If you ever hop on a call with Ashley, she'll either be in the city of Boston or in the middle of the woods at her cabin in Maine. With her is her rescue, super mutt, Beemo, who goes everywhere with Ashley and her husband.
Fun Facts:
She used to study lemurs in Madagascar.

She is allergic to peanuts, but only peanuts—no other nuts. Her husband is the same way which wasn't planned, but is convenient!

She used to bartend for a decade, knows how to make almost any mixed drink, and loves to host cocktail hour.