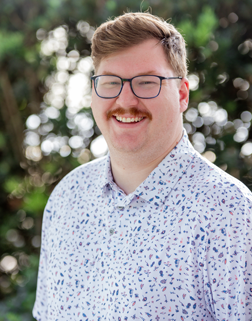 Brad Marshall
Revenue Operations Manager and Analyst
Brad is Lift's Revenue Operations Manager and Analyst. In his day to day, he works to reduce negative friction by providing support to clients through their CRM tools, overseeing data and database management, and helping to manage or outline business processes.
Originally from Toledo, OH, and currently living in Cincinnati, OH, he's a fan of all things Buckeye. A Miami University alum (the one that existed in Ohio before Florida was even a state) and Ohio resident, he's quite accustomed to watching bad football, except when the Buckeyes play. When he's not working, you frequently find him travelling, spending time with friends, or reffing soccer!
Fun Facts:

He is a staunch Chelsea Blues and a US soccer national teams supporter.
He studied Chemical Engineering, and will happily relay all the terrible jokes he learned over the years.
He's surfed Bondi Beach and snorkeled the Great Barrier Reef, and is a fan of all things Aussie.