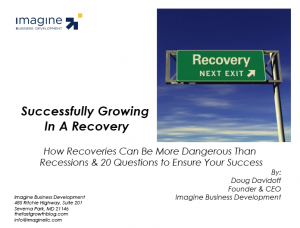 11 months ago I released my eBook, Successfully Growing In A Recovery. I announced the release of the book with a blog post titled, The Great Recovery. The post turned out to be somewhat controversial, as many readers and business executives expressed their belief that I was, at best, premature in my call.
I tried to remind these executives that, too often, we confuse "recovery" with "expansion." Recoveries are very bumpy and are quite treacherous. As I share in the book, recoveries can be even more dangerous than recessions if not handled properly.
The main thought I shared was that great companies move before everything is clear. This is the great advantage of a recovery – while most people still see fear and confusion, a few companies will see through that fear and act.
Happily, there were many companies that downloaded the ebook and many of them recorded record-breaking years.
The point of this post is not to congratulate myself for my call. Rather, it's to point out that the advanced mover advantage is still there, but probably won't be here for much longer. For those of you that wanted to see more proof of recovery before moving, I've got some very good news for you.
The news about the economy is as good as it's been in five years. Don't get me wrong, there are still big challenges and barriers facing us; but the opportunities for small and mid-market businesses are plenty.
For those who want some data to back up this claim, here you go:
David Wessel, economic columnist for The Wall Street Journal, says, "The data is encouraging. Unemployment claims are down to their lowest level in more than three years. Housing starts are up. The stock market is bouncing back. Europe's last round of bond sales wasn't a complete disaster."
There's early, encouraging belief that even the housing market is poised for long-term recovery. Gregory Zuckerman, a columnist for The Wall Street Journal, shares, "big money is starting to wager on housing. Hedge funds have been buying housing-related investments,

betting on a rebound

."
2011 finished with a three and a half year low in unemployment claims, and home sales agreements were up 7.3%. Both of these are clear signs of recovery.
Just yesterday,

The Institute for Trend Research

(one of the best group of economists I've come across) share this observation, "The Purchasing Managers Index 1/12 rate of change rose in December, a positive sign for the economy. Since the October 2011 tentative low is holding, this indicator is providing further evidence that we will likely see growth in US Industrial Production in the latter half of 2012."
Bear in mind, recoveries are not all rosy (of course, neither are expansions). As I said earlier, there are still many challenges and barriers that could hold back economic growth. Waiting for the "all clear sign," however, is a guarantee strategy for failure.
Remember, the companies that gain the advantage and enjoy the rewards are the ones that move forward before the herd. It's not too late to gain that advantage, but time is running out.
If you'd like to see our thoughts on the keys to successfully growing in a recovery, feel free to download our ebook.