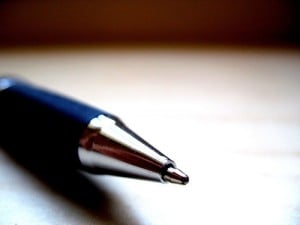 Stop for a moment and consider everything you do to win clients. If you're like most people that I come across you're working too hard and winning less than you should.
Yes, that's right. You should be able to win more B2B sales without having to work so hard. How? By leveraging content in your sales process.
The beauty of content is that rather than chasing down your prospects, influencers and decision-makers, they come to you. There's no trick involved, just the intelligent use of content to leverage your results.
Content is huge right now as a buzzword, but it's always been important in B2B sales. What's changed is the focus and distribution of that content.
Converting a B2B prospect takes an average of seven touches over 18 months (80% of sales are made on the 5th to 12th contact). The use of content not only supports you, but can also reduce the total number of contacts that are needed. It will allow you to influence and prime your customers/prospects even when your salesperson (or you) is not there.
Here are five tips leverage content to work for you:
1. Remember the power of great content.
When I started in business it was the goal of just about every company to get an article published in a newspaper or magazine. Today, you can be your own publisher. When you produce good, consistent content, it can shoot your company to the top of Google and expand your authority in your chosen niche(s).
2. Cultivate Authority
Don't try to be all things to all people. Know who you are and what you do - build your brand and your authority in your space. Use blogs, special reports, newsletters, and white papers to get the right people paying attention to you and looking to you when it's time to buy. If I can't be top of mind for my prospects as an authority in the space, I'm not getting the sale. You won't either, so focus your content and build your authority.
3. Give them a reason to come to you.
I want the same thing as everyone else - good information and good products. If I find somebody putting out "the good stuff" you bet I'll be back for more. This is especially true in B2B sales. If you put together a great white paper or run a blog with solid information, you're giving people a reason to visit you, like you, share your content, and recommend you. The extra traffic, enhanced reputation, and word-of-mouth all work to your advantage, lowering the barriers you have to overcome to make the sale.
4. Answer questions.
Prospective buyers are loaded with questions and problems. If you've got answers, they're listening. This is especially important if a part of your B2B sales funnel relies on web traffic. Google's Hummingbird update focuses on bringing people search results that legitimately answer their questions instead of just serving up keyword matches.
You need to evaluate your content with that in mind. Tweak it so that everything would pass muster as a quality "question answered" piece with a real person, and your content will have a competitive advantage out there on the web.
5. Keep it fresh.
The B2B sales process takes time; we all know this and the higher the price point, the more time you need to be prepared to invest. This means your content either needs to be evergreen or you need to update it regularly to keep it fresh so that clients at any stage in your funnel feel like they're getting the latest intel.
Nothing will cut engagement faster than someone coming to your website three times and seeing nothing new. Does this mean constantly redesigning your site? Not at all.
Instead, think of it as continually adding building blocks. With B2B sales this means adding new special reports, blog posts, FAQs, etc. Adding content continually helps reinforce what you're doing and makes all the pieces in your marketing tool kit sharper. Make a schedule, stick to it, and reap the rewards over time. It does all add up. By building up your marketing asset, you'll be able to reduce your expenses and effort in the future. Use these five tips as guideposts for leveraging content in your sales process, and you'll be pleasantly surprised at just how much traction you gain.