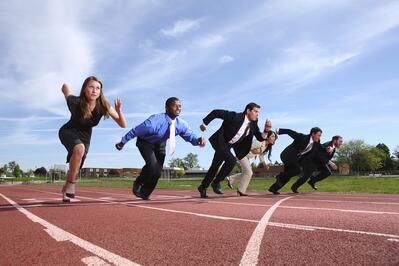 I admit it. I'm in the tank for Drew Brees and have been for a while. I think it started when he became a star at Purdue, even though he was not recruited in his home state of Texas. Then he fell to a second round draft choice and, despite the disappointment, he won games.
For whatever reason, the Chargers just never loved him and they let him go. For those of you that know Brees' history, you know that in his last game with the Chargers he suffered a major shoulder injury, one that could have threatened his career.
He landed in New Orleans and, well, you probably know the rest.
There can be no debate about Brees' talent, but that's not why I love him. I love him because, despite his natural ability, he is a student (always) and he works his tail off. Through my friends and personal trainers, who work with Brees' personal trainer, I've gotten to hear some first hand accounts of how Brees trains, and it got me thinking. Do I work this hard on my craft? I certainly think I'm talented, but I asked myself if I really put in the work (my answer, and you can ask my staff their opinion, was that I do).
Let me ask you – Do you work this hard? Drew Brees doesn't just work hard at practice and in a game; he puts in the time. He studies. He's always improving.
One of my favorites stories about Brees came during the Saints bye week (the one week during the season that a team doesn't play a game). Coach Sean Payton gave the team the weekend off. On Sunday, Payton went to the Superdome (the Saints home field) to do some work. Brees was on the field, by himself, simulating plays.
Payton asked Brees what he was doing there. Brees responded that he was staying in his routine, playing a game on Sunday at 1pm. He had been going through the normal progressions of the game plan. As Payton walked away, he asked Brees, "So, how are we doing?" Brees responded, "We're up 27-14, 3rd quarter."
Wow! No wonder he won the Super Bowl.
Don't get me wrong, I am not saying that you have to be a workaholic maniac, doing nothing other than work. Brees is involved in a number of pursuits (least of which is that he has raised a tremendous amount of money for New Orleans revitalization), and when he talks, it's clear how intelligent and interesting he is.
But good is not good enough for him. He wants to win, and he realizes that winning is not accidental. He works at it. He learns, practices, and plays – even when he doesn't have to.
My bet – if any of us work half as hard as Brees does on his craft, we'd be great and we'd get the great results that come with it.
What do you think?