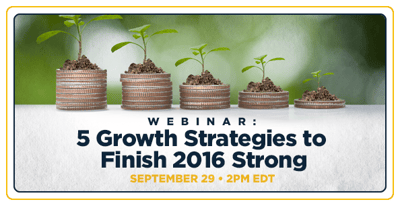 Welcome to fall! It is hard to believe that we're only days away from the 4th quarter. How has your year gone so far? Is your organization ahead of plan? Behind plan? Somewhere close?
How is your team approaching the 4th quarter? Are you looking at it as the last chance to "save" 2016? While these next 90 days can definitely impact overall results for the current calendar year, they can impact your 2017 results even more. No matter how the year has gone to date, the 4th quarter is the time to not only close business for this year but more importantly, it is time to start building a foundation for 2017.
On Thursday, September 29 at 2 pm EDT, Imagine is hosting a webinar called 5 Growth Strategies to Finish 2016 Strong. Here's a sneak peek:
Learn how to use the 4th quarter to drive results for this year and build a solid foundation for 2017. Register today!