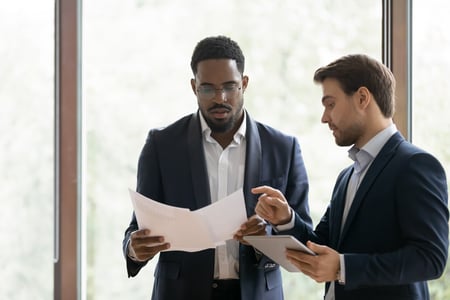 When talking with anyone who is interested in your services, where do you send them to look at information on your company? How do you tell your story? If you send them straight to the website to find the information on their own accord, that's great if everything is laid out to where they can understand it. I would bet, though, that this isn't the case.
By sending them to do the research on their own, you're wasting their time, and chances are they aren't going to be able to find exactly what they're looking for. Ultimately, you're creating more unnecessary friction without realizing it.
The way around this issue is with a proposal.
What is a Proposal?
A proposal is whatever you want it to be (to a certain extent). While there are elements that you can include in your proposal, there isn't one right way to put it together. Nor are there specific elements you have to include. Ultimately it should be a document that you send to a potential customer that catalogs what's being offered, what the price of the officer is, and the commitment to buy or not buy.
Some proposals are broad, some are presentations and/or reports. Here at Imagine, our proposal is almost always part of an assessment, a review, or a series of recommendations. We'll make recommendations and then include our suggestions of what we would do within the proposal. It doesn't have to be anything complicated; it can be a simple document, almost like a quote.
Other items that you can include in your proposal are full terms and conditions like a contract, images, information about the company, and more. You don't have to have those items in the document for it to be a proposal. For example, we don't include our terms and conditions within the proposal. That's something we send outside of that document.

The 7 Must-Have Sections in a Proposal (According to Proposify)
Proposify put out their State of Proposals 2021 - Analysis and Insight to Dominate Your Deals from Proposal to Close. (Mike and Doug discuss and review the report on Episode 76 of The Black Line Podcast.)
In the report, Proposify includes a page of the 7 must-have sections you need in your closing docs. The page says, "While proposal structure changes depending on the company, industry, and the product or service in question, most deal docs follow a similar framework." These 7 sections include:
Cover Page
Executive Summary
Approach/Solution
About Us/Our Team
Deliverables
Pricing
Terms & Conditions/Sign-Off
While all 7 of these sections would be great to have, proposals don't need to follow this layout exactly. This allows you to be flexible and make it your own. As long as the document lays out what you're going to do, and what it is going to cost, you can assess and adjust it to fit your needs and/or the prospect's needs.
Why You Should Use Proposals
A good proposal tells your story to everybody.
You can take what you currently showcase on your website and put that into a document. By doing that, you can now easily spread your story online and offline. It allows you to have all your important and/or needed information in one place, rather than sending the prospect to your website to do the research for themselves.

By having a document that someone can look at, you've now created alignment within the prospect's organization. For example, let's say you get on a call with a prospect and you say something that resonates with them. If they don't have anything to showcase to the rest of their team, they can only go based off of memory and what they heard. If you have multiple people in those meetings, there is a chance that they could all hear different things that don't quite match up to what you were talking about. By handing over a proposal to them, they all can be on the same page, with the same information as the person sitting next to them. This alleviates the "she said/he said" part of the conversation and the guessing that comes with it.
If you're currently sending your prospects to look for information about your company, the services you offer, and more on their own, you're doing a disservice to them. You're creating friction points where there don't have to be any. Instead, create a draft proposal that you can adjust to fit the needs of your individual prospects and send them the documentation. Not only will they be more aligned with your offerings, but you'll find it easier to tell your story and receive business.