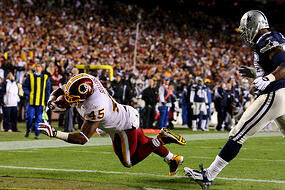 In my post on Monday, I asked you what game do you want to win. That night, I saw an interview with Washington Redskins quarterback Donovan McNabb talking about the Redskins win over the Cowboys. I was particularly struck by one of his comments.
McNabb then said, "Sunday (game day) is when we have fun. The game is won during the week – that's when we work." He was referring to Head Coach Mike Shannahan's belief that practice and preparation are where the games are won.
I thought to myself how different that attitude is from most people – especially in sales. They think the sale is won when they're in front of the customer performing. Great salespeople know that the sale is won long, long before they get in front of the customer. Being in front of the customer is the time for you to have fun.
The sale is won as you:
Develop your business acumen.
Practice your conversations.
Develop your active listening skills.
Develop an inventory of powerful questions that provoke and deepen the awareness of the problems and consequences your customers face.
Study how customers in your market do business and consider ways that you could help them do it better.


As my coach used to tell me, if you're not doing it off the field, you won't do it on the field. So, what are you doing to win the game?