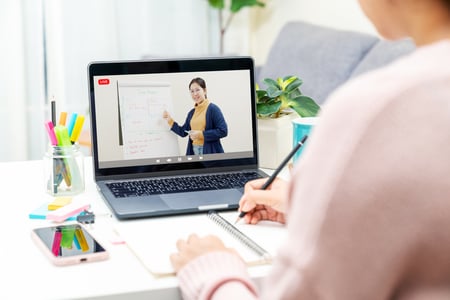 While we had all hoped the dawn of 2021 would usher in our return to social activities, parties and events, the timeline of this return still remains unclear. That also means disruption in the workplace will continue to impact our daily activities and demand generation efforts. Many conferences have turned to virtual events and companies are spending more time producing webinars as we continue to search for ways to help soften the blow. That comes with its own set of challenges and planning activities that we may have not had to consider before.
So what does it take to run a successful webinar? Let's dive in.
Select Your Style and Topic
First things first, select your "style" and topic. I mention these together because they may influence each other. What do I mean by "style?" How will you format the webinar? Will it be a single speaker presentation, guest speaker, panel discussion, virtual chat? Each of these have their own pros and cons and the style could influence the topic, or vice versa. Let's take a quick look at those:
Hosting alone: This style would consist of a single presenter, typically with some type of deck or slides for support.
PROS:
You have more control. Over the topic, content, and scheduling.
You can cover a wide range of topics for buyers in different stages of their buying journey.
CONS:
You'll be limited to your network/following, missing an opportunity to widen your net.
All of the preparation will fall to you.
If you aren't incredibly comfortable in front of a camera in this setting, flying solo can add to the uneasiness.
Keeping your audience engaged can be a little more challenging and requires a little pre-planning.
Guest Speaker: Similar to a single presenter, but with the added bonus of a fresh perspective. You can let the guest drive the conversation or make it a team effort.
PROS:
You'll have an opportunity to widen your net and get in front of a new audience.
You'll have support developing a topic and presentation.
You get a fresh new perspective to share with your audience.
CONS:
Logistically, there are a few things that require a little more planning. Topic selection, scheduling, practicing, etc.
You won't have as much control over the presentation or topic.
Panel discussion or virtual chat: This style of webinar consists of a small group, whether it's presentation style or a loosely structured discussion with pre-determined questions or topics to keep the conversation moving.
PROS:
You'll have the opportunity to pull in an even larger audience.
A larger group means more perspectives on important topics.
Not only will the onus of preparation get distributed, but you'll be able to lean on and pull from panelists' collective knowledge and experience.
CONS:
Adding panelists adds to the planning. Pro-tip: try to stick to panels of 3-5 people; any more than 5 and it just gets messy. (And from personal experience - 3 panelists is the sweet spot.)
You'll have less time to talk.
You'll have less control over the content and direction of the conversation.

Choosing Your Topic
Webinar topics need to attract a large audience, deliver value and drive action. That can be a tall order to fill, but these tips will help you pick the right one. And don't forget, this isn't a sales pitch (unless you are doing a very specific webinar for those who have already expressed interest in your product, but that is a topic for another day).
Repurpose popular content - Have a blog post that has performed particularly well with your target audience? Why not use that as a jumping-off point. This not only reduces the amount of time you'll need to put into preparation but you already know that 1. The topic is relevant and 2. You can leverage the existing piece to promote the webinar.


Address a problem your industry is facing - Panel discussions work great for this type of topic, especially for newly emerging or evolving problems. Draw out the collective brilliance and highlight how each panelist is approaching the specific problem and what they have learned.


Answer frequently asked questions - Tap into what your prospects and target audience have already told you that are interested in.
Psst….after you've picked a topic, don't forget to set a registration goal! Set a realistic goal--keeping in mind the popularity and broadness of the topic, as well as your audience/network size--for the number of people you would like to register.
Now, Let's Talk About Timing
Timing is crucial for the successful execution (and maintaining your sanity) when it comes to webinars. As a rule of thumb, you want to give yourself at least 4 weeks to plan. Keep in mind, if you are doing panel discussions or including a guest, you might want to give yourself some extra time.
Before you pick a date and time, do some research. Webinar scheduling data shows that, in general, Tuesday, Wednesday and Thursday are the best days to host a webinar, and 11:00am or 2:00pm are the best times. Don't forget to keep where your audience is located in mind. If they are located across the country, overlooking other time zones could hurt registration and attendance.
Planning promotion for your webinar
About 3-4 weeks out, you will want to start promoting the webinar. Think about what mediums you will use. Email blasts, social media, updating your email signature, providing guests/panelists with promotional messages, your website (just to name a few).
Website and blog: Use your website and blog to promote the event. Consider adding a temporary section to your homepage, or if you have a corresponding pillar page, add it there also. You could also add in slide-in CTAs or exit widgets if you aren't keen on the idea of editing your webpages directly. Make sure you create custom CTAs to include in blogs that direct users to the dedicated registration page for your webinar.


Email Blasts: Make sure you consider who you would like to invite and send the emails to a specific segment. Sending 3-4 emails to promote registration will help you strike a balance between nudging your audience and annoying them. I like to use a cadence of 2 weeks out, 1 week out, and the day before.


Social Media: Start your social media promotion around the same time as your initial email invitation. If you have a budget set aside for the event, consider doing some paid advertising. Also, don't forget to leverage the social media channels of your guests and panelists. Providing them with a few messages that they can post will get the ball rolling!


Get your company involved: On social media and via their own 1-to-1 emails. Again, create some base social media posts and ask team members to share (if you aren't already posting on their behalf). Also encourage them to invite anyone they think might be interested in the topic. For sales reps, set a goal and ask them to invite prospects via a 1-to-1 outreach message. Even if they are on the marketing email blast, receiving a personal message makes them feel thought of. And don't forget your email signature! This is a great place to include a quick link to the registration page.
Alright. You've selected a topic, style, registration goal, promoted the event and held a successful webinar, phew! That's it, right? Well, it could be, but you'd be missing out on another opportunity...Be sure to record the session so you can continue to promote and leverage the content you've already put blood, sweat and tears into (hopefully minus the blood and tears part…)! What activities should you complete post-webinar? Here are a few:
Send follow-up emails: If you promised access to the recording or other materials, send these items out to all attendees and even those who registered but weren't able to attend. It's no secret that many of us register for an event, knowing we can't make it and expect the recording instead.


Update your landing page: Make the webinar available as "pre-recorded" or "on-demand." This will allow you to work the webinar into your rotation of content and share a valuable piece with your audience.


Repurpose the content: You spent the time crafting this unique story, use it to create additional pieces! Write a blog post covering the topic or use talking points as inspiration for a series of blogs. Also consider your audience during the event, was there a question someone asked during the webinar that would make a good blog? Or did you get feedback that something was particularly informative/helpful? The key here is working smarter, not harder, and getting the most out of your efforts.
The ROI on virtual conferences may still be hit or miss, but for many, webinars are taking a leading role in their demand generation efforts--and for good reason! From introductory ideas to complex topics, webinars are a flexible medium to educate potential prospects and support the entire demand generation process. And the added bonus of creating evergreen content to promote and distribute for months to come.
As we continue to look for virtual ways to drive our lead generation efforts, it's important to stop and think about the planning involved. From pre- to post-event activities, planning a virtual event is no small task. But if we stop and consider all of the potential avenues and items above, we can get the most out of our efforts and soften the blow that we have all had to cope with over the last year.