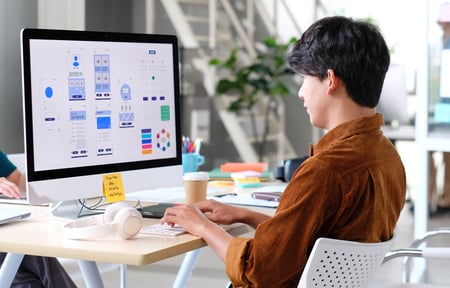 Recently I've been on a few client calls for training, which doesn't happen all that often, and on almost every single one of them I've gotten the same question: "How do I set up a campaign from start to finish?" After hearing this question more than two times, I've decided it should be addressed because if a few people are curious, there have to be more.
My hope for you is that campaigns become clearer and easier to navigate from my time with you today. That way the next time you have to set one up, you'll be ready to go and smash it!
How Are We Defining "Campaigns"?
Like most words in the English dictionary, campaign can mean a few different things. When I say campaign I'm talking about the catch-all of assets for an event, premium piece of content, or even a launch of some kind.
Let's say, as an example, you are launching a new course on your website. The course would be the reason you would have a campaign and within that campaign are all your assets (emails, social posts, paid ads, etc.) that you need to create to make sure that the course is successful.
The campaign is the umbrella and the assets are everything that falls underneath.
How to Set up A Campaign
There are certain steps you need to take to make sure that you think and work through for your campaign to be successful.
1. What is your objective?
Before we can get into any sort of planning or creation, we have to ask ourselves, what is it that we want to accomplish with this campaign? Is it to get course downloads? Have someone sign up for your book release? Sign up for a webinar? Or is it something else?
You'll want to lay out the goals and the corresponding metrics that you're going to use, so at the end of the day, you can measure whether your campaign is doing what you want it to do. Without goals, you're putting something out there and that's it. By having a purpose you're able to more easily track how everything is performing and in the end if you reached your goal.
During this stage, you will also want to call out who it is you want to reach, and determine if you have a budget for this campaign. Knowing your "who" will help you figure out where you should be promoting your campaign and the message that goes with it.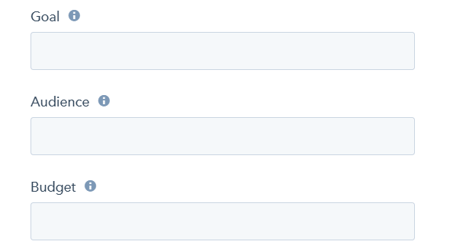 Having a budget determined and written down will help with planning promotions and keeping track of how much you're spending. If you're planning on pushing out paid ads on social or Google, it's always a good idea to plan for how much you're allotted to spend; for example, unless you are a multi-million or billion-dollar company, you probably shouldn't be spending a lot promoting a workbook.
2. What does timing look like?
Timing is everything. Once your goals are set and you have a budget (if applicable), it's time to choose when you're going to launch the campaign. Granted, this will all depend on what it is you're launching, and how long you want to promote it. You could start the campaign pre-launch and have it end a week or two after the launch. You could also start the campaign after the item has been published. There are a lot of different paths you can take with timing, so it's important to choose the duration that is best for you.
Having a timeline will also help you determine when you need to have your assets created and finalized so that everything lines up how you want.
3. What assets will you need to create for this campaign?
There's no shortage of assets that you can create for a campaign. Depending on what it is you're launching, whether you have a budget, and who you want to reach will determine what those assets are. Some assets to consider for a campaign include (but are not limited to):
Emails
Workflows
Forms
Social media messages
Paid ads for social and/or search
Call to actions (CTAs)
Lists of people who should receive the outreach
Flyers/Brochures
QR codes
And more
And don't forget that you will need to make sure the item you are launching is included in your list. Without it, you won't have a campaign!
4. Lay everything out.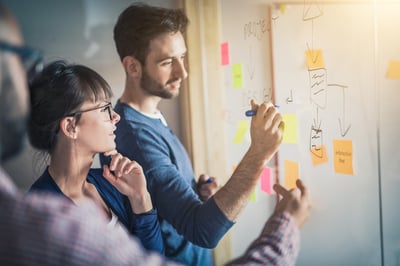 Before you can automate anything, you have to make sure it's logistically going to work. The best way to know is by writing out the process on paper and manually testing it. How is everything going to fit together? How are people going to get from point A to point B to point end?
We have a saying here at Imagine that before you can automate it, you need to make sure it works manually. This 100% applies here.
5. Design your assets.
Once you have everything laid out and ready to go, designing your assets is crucial. At this point, you should be putting together copy for your emails, social media posts, and/or landing pages. If you're looking to have someone fill out a form, now is the time to sort out what information you need to collect from them and put those fields together. Most importantly you want to make sure anything you need to make for the launch whether it's a webinar presentation, pamphlets for an event, etc. are in the works too. It's important to make sure everything you possibly need is getting built, designed, and put into action.
6. Put dates on everything.
As I mentioned prior, timing is everything when it comes to a campaign. That includes the timing of having everything ready to go so you can have a smooth launch. As you're designing and putting your assets together, make sure you have due dates associated with when everything should be complete and ready to go. That way you aren't two days from launching the campaign and are still waiting on final approvals or finalized designs.
7. Place everything in your platform of choice and make sure everything is properly connected.
We here at Imagine use HubSpot, but no matter what system you use, once your assets are done, get them into place and ready to go for when you need to push publish. The main thing at the end of creating a campaign that you'll want to ensure is that every page, every social post, every everything is scheduled out to publish. If you have any automations like a workflow, make sure that those are set up and ready to fire.
8. Turn everything on and test.
Turning everything on is the easy part. If there are a lot of moving pieces like emails and forms, you need to make sure they work. Put yourself or a coworker through the process of filling out the form to make sure that your automations are working properly. It is important to find where the holes are as soon as you turn everything on rather than waiting for visitors to get stuck and reach out.
An extra step that will be extremely helpful is proactively setting up some reporting for the different assets. If you're in HubSpot that means you'll want to make sure that all your assets are in a created campaign in the campaign feature. If you are not in HubSpot you still should set up a few reports or dashboards so you can monitor the progress of your campaign.

Launching something new can be challenging and overwhelming if you don't know what steps you need to take to make it successful. The process overall will stay the same with each campaign you put together, but the details will change to match what it is you're launching. Overall, if you're trying to be successful, starting here will point you in the right direction so the next time you have to create a campaign you'll know exactly where to start and where to end!