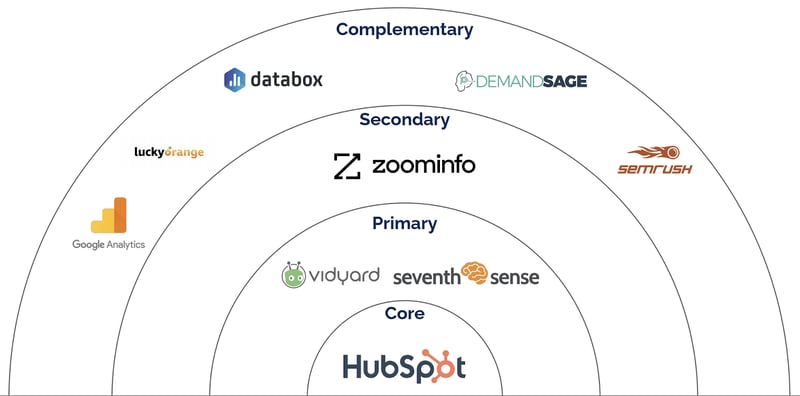 I'm among the first and loudest to say that in today's world of sales and marketing, technology sucks up far too much oxygen and is over-valued. That, however, does not mean that the technology you use, aka your tech stack, is not important. Properly designed and implemented, technology is a tremendous accelerator and force multiplier.
Properly designed and implemented is, of course, the challenge. Far too often technology creates friction, even when its purpose is to remove it.
There are 5 principles we follow when designing a growth-focused tech stack:
The business process must drive the technology, not the other way around.
The simplest stack that meets the needs is the best tech stack. (This typically means that things being equal the fewer number of apps the better.)
If you can't do it manually, you can't automate it.
Don't buy technology, hire it - focus on the job to be done.
Solve for the whole.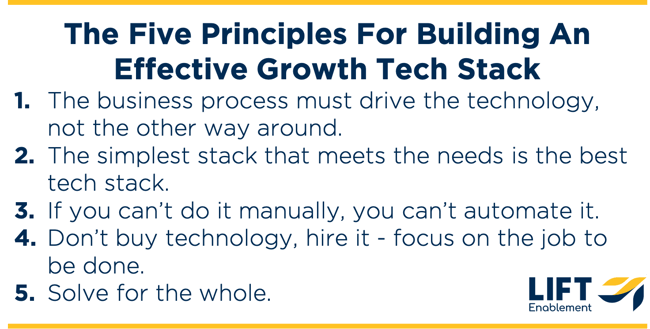 One of the most common mistakes we see in virtually all aspects of the modern customer acquisition and success playbook is the tendency to jump right to its most advanced, complex aspects. This is particularly true when implementing or leveraging martech. I've lost count of the number of mid-market companies that have "implemented" some of the most advanced technology apps available, but still aren't using their CRM in a consistent manner.
As I shared in a recent course I conducted for the Marketing AI Institute Academy, the companies that utilize technology the best are the ones who start small, then iterate and build.
When assessing your tech stack, we recommend you view your needs through four levels:
Core: these are the must-have applications; you simply can't function without these.
Primary: these apps are key drivers & enablers, directly supporting crucial activities
Secondary: these are good-to-great applications, enabling you to maximize your abilities in a crucial few areas
Complementary: these apps fall into two categories: a) helpful applications that are used to enable you to automate important activities (you'll want to measure this category by time saved) or b) applications that could be more central that you're testing out.
Based upon our work with hundreds of companies in more than 30 industries, the following is the (ideal) tech stack we recommend for any mid-market company serious about utilizing technology to make growth easier. What if you're not a mid-market company? Start with the core applications and build your tech stack from there.
Core
Someone once told me that the 7-iron is the most important club in a golf bag. That if a good golfer were only allowed to use one club, they'd use the 7-iron. What's more, if they're really good, they would achieve 85-90% of what they achieve using all 14 clubs (the number of clubs officially allowed in a golfer's bag during play).
Think of your core stack in the same way. The design and buildout of your core level is going to be responsible for 70-80% of your outcomes, so build it out well.
CRM, CMS, & Marketing Automation
Three years ago we had a problem. One of our first principles is that the simplest stack to get the job done is the best, but it was impossible to keep it simple and get the job done. Companies were forced to constantly make a wicked trade-off: simplicity vs. capability. As a company grew, the complexity and needs of their business ultimately required using at least 3 applications.
Lots has changed over the last few years, and today companies don't need to make that tradeoff.

Today, there's simply no reason that a mid-market company can't use HubSpot as a single, core application. I'm not going to lie here, while I've been a fan of HubSpot since their founding, and Lift has been a customer and partner since 2011, I've often expressed my concern that HubSpot is trying to be too many things, encouraging them to focus more on fewer things.
HubSpot has built an absolute powerhouse platform and has eliminated the trade-off. For mid-market companies, HubSpot is the only single database option; it'll never be something that gets a lot of headlines, but is a major component to eliminating friction in the process.
Our recommendation: HubSpot. For the reasons mentioned above.
Primary
Sales Acceleration & Engagement
Salespeople are spending less time selling as more demands are being placed on their plate. The job of this category is to automate the predictable, reduce the noise, and reduce the effort required from salespeople to do their jobs well. This is a very hot category today with at least five companies that I'm aware of who have raised more than $100 million in funding. On a side note, I think SDRs from these categories account for about 40% of the cold emails and calls I get.
Our recommendation: HubSpot. HubSpot's Sales Hub provides breadth and depth that are unrivaled. To match the core functions provided, you'd need to use 2-5 applications. What makes this a no-brainer is the strength of HubSpot at the core.
Video
Video is becoming more important (and, candidly, more hyped) every day. I'm not going to say you can't grow without video, but if you're not intelligently using video, it's going to be a lot harder (and more expensive).

Our recommendation: Vidyard. Vidyard is a powerful video platform providing insights, dynamic actions and greater control so that you can leverage video content effectively. A big plus is that Vidyard has built a native application within HubSpot.
Email Deliverability Optimization
Email is a critical communication channel for sales, marketing and success teams alike. Communicating via email is also more challenging than ever. There is no "real estate" that is more overcrowded and competitive than your user's email inbox. Getting into the inbox is a big challenge, but it's not enough. You must get in at the right time. The blast-and-pray approach is not something serious-minded growth companies do anymore. You must be smarter.

Our recommendation: SeventhSense. The vast majority of the people involved in growth for your company won't even know that this application is there, but they will notice stronger engagement and insights with their emails. If you're serious about email (and if you're serious about growth, you better be serious about email), you should be obsessing about deliverability and engagement. There's no application that comes close to SeventhSense.
Secondary
Lead Intelligence & Augmentation
Today, you have to know more about a possible prospect before the first touch than ever before. Databases are bigger than ever, and most funnels are bulging with inertia. A primary cause of that is the inability to craft contextualized messages and actions to those in your database. List/database quality has always been important, and today, it's absolutely crucial. To win, you must know more about your leads and you must know it earlier than ever. This is where lead intelligence and augmentation comes in.

Our recommendation: ZoomInfo. There simply isn't a provider that comes close to providing the breadth and depth of information they provide with the level of accuracy that's only matched by personal, firsthand sourcing. Warning: their core product is great (lead intelligence). They seem to be broadening their portfolio of features, promising sales automation, intent data and more. We are not recommending ZoomInfo for those needs, and would advise caution if you are considering.
Conversational Marketing/Chat
Another hot and hyped category to be cautious about. Chat can (emphasis on "can") be a powerful tool and accelerator. We recommend that companies should be careful how much time, attention, and energy they put into this area. I know I'm going to get some flack with that statement and for putting chat in the secondary category, and I freely admit that there are some companies that are using chat in ways that are instrumental in enabling their growth. For them, chat has truly become a game changer. I'd note that for those companies that are actually leveraging chat for results, it's been successful because they built a strong process first. For them, chat has been a good to great application - they had to be good first.
Our recommendation: HubSpot. It's built in and fully integrated. There are still some holes in their application, but it's improved quite a bit since it was launched. There are very few cases where HubSpot's chat won't meet your needs.
Complementary
Dashboarding/Data Visualization
I love dashboards and visualization. At Lift, we firmly believe that how you measure, and how your report/present measures, is as important as what you measure (and what you measure is really important). This may lead you to wonder why I place this in the complementary section. The reason is simple - most companies aren't utilizing the capabilities of their existing systems as well as they should, and would be served better by focusing there first.

Our recommendation: Databox. Databox is easy to set up and use, and provides highly engaging charts, visualizations and dashboards that can be shared in a number of ways in real time. Their integrations are also strong. Before using Databox, you'd have to log into multiple tools to pull data and use a series of spreadsheets that were ugly, complex and disruptive to maintain.
Data Insights
Drowning in data, starving for insights. Accessing data is not enough. More than ever, you need to be able to mash up and manipulate various data points to make it actionable.

Our recommendation: DemandSage. Disclosure: I am an advisor to DemandSage. DemandSage is a relatively new entrant, enabling you to easily extract data from HubSpot and place it in Google Sheets. From there, you can manage and manipulate the data as you would with any spreadsheet. We've attributed about 20 hours a month of time savings in using them.
Analytics
The ability to qualitatively and quantitatively analyze your data is important to making data-informed decisions. There are several categories for analytics; here are our recommendations:
Website analytics: Google Analytics. This likely needs no explanation.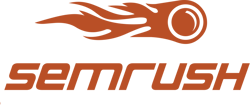 Visual Website Analytics: Lucky Orange. Read our review here.
SEO: SEMRush. SEMRush strikes a nice balance between the ease of use, interpretation, and power of the tool itself.
Customer Data Platform (CDP)
According to HubSpot's Ultimate Guide to CDPs, a CDP is a software that aggregates and organizes customer data across a variety of touch-points and is used by other software, systems, and marketing efforts. CDPs collect and structure real-time data into individual, centralized customer profiles.
Our recommendation: If you're not fully leveraging the tech stack I've laid out here, then don't worry about a CDP at this point.