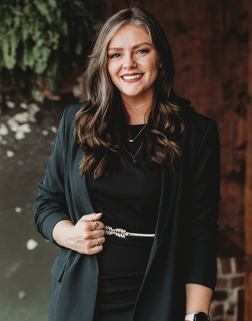 Victoria Evans
Director, Go-To-Market Advisory & Services
Victoria joins the Lift team as our Director, Go-To-Market Advisory & Services. She comes to us with a strong background in marketing after years of freelance work in creative fields, finance marketing, and agency work.
She has worked with a wide range of industries and company sizes, ranging from small businesses and entrepreneurs to global organizations in fitness, technology, e-commerce, home improvement, and everything in between. Victoria was also a panelist for Facebook's Boost Your Business series while working at American 1 Credit Union, recognized for her social media advertising strategy.
After being referred by the one and only George B Thomas (a kindred spirit of Doug's and Chief HubSpot Helper of his own company) and getting a sense of the culture at Lift, Victoria knew she was in the right place. She's excited to help Lift establish a stronger digital presence and define its voice. Her marketing strategy knowledge, passion for collaboration, and deep analytical skills will help not only connect the team but grow Lift's ability to support its clients too. The impact of her work, helping people's lives be just a little bit easier, makes her excited to come to work every day.
Outside of work, Victoria is an outdoor enthusiast. She loves traveling, camping around Michigan, and paddle boarding in as many lakes as she can. She loves being a wife and a mom to her two awesome kids. Her favorite perks of remote work are being able to work from anywhere and hanging out with her dogs. Her dog Mabel likes to make appearances on calls and is very playful and chatty. Hope is her rescue who has made a remarkable transformation and is happiest with her favorite sock, napping on the couch! Her family also has three cats - Abu, Eva, and Kit Kat.
As you get to know Victoria, you'll feel her positive energy in every situation. She has a big passion for making people's lives better, either by putting together a great workflow or process that simplifies their marketing or by enjoying a long walk talking through the biggest questions about life, Victoria's goal is to leave you a little better than she found you.
Fun Facts:
Victoria got her start in affiliate marketing while in college, and made the most money from Lactaid pills. She once had a successful "mommy blog" about her toddler daughter moving to a lactose-free diet and it went wicked viral on Pinterest.
She's a crazy plant lady and rock aficionado, just like her grandma.
Coffee and milky, chocolatey things like chocolate ice cream are not her jam. You'll most often find Victoria sipping a 40 oz bottle of water, or enjoying an evening non-alcoholic cocktail.